Having the Right Tools
Communication is essential to a successful remote team. The biggest hurdle to overcome in going remote, is that you are no longer in constant contact with your colleagues. Communication tools are crucial to manage a remote team. Keeping in contact with your team and relaying important and relevant information is the key to success here. Tools like Slack, Zoom and Google Hangouts bridge the gap between physical and virtual communication. Giving your team these tools may be the difference between running a successful remote team and a constant headache.
Virtual meeting tools like Google Hangouts and Zoom are excellent tools for not only meetings, but training. The screen sharing features of these tools are effective training tools. Share your screen with your new hire to make the onboarding process a breeze.
Set Expectations and Deadlines
Setting expectations is a key factor for managing whether it be in a remote setting or not. It is all too easy for your employees to enjoy their newfound freedom and leave work behind. Setting the expectations high, albeit reasonable, must be done from the get go.
Expectations are different for every team and every company. Setting firm deadlines is a surefire way to get off on the right foot. Setting both short term and long term goals and deadlines are a great way to set the expectation for your new team dynamics.
Take time to touch base
Working remotely doesn't leave a lot of time to touch base with your employees. You may now only communicate via email or phone call, and it's spotty at best. This is why tools such as Google Hangouts and Slack's chats are so important.
Set the communication expectations high. During the workday, your team should be available to communicate through chat at a moment's notice. Your employees have no reason to not be able to send a quick chat via slack or Gchats with their desktop and mobile applications.
Also, take the time for both one on one virtual meetings and team meetings. We encourage team meetings once a day and shoot for weekly one on one's for a more personal touch. These short meet-ups help keep a sense of community and accountability.
With how easy it is to touch base virtually, it is important to keep in mind that your team is not at your beck and call 24 hours a day. Even while working remote, your employees should never feel that they are always on the clock. Best to keep all of your communications within a set schedule to keep that new boosted morale at an all time high.
Make everyone feel included
One of the issues of working remotely is that many people end up feeling like they are working alone, confined to their home or local coffee shop. Try to find ways to keep your team engaged with not only their work, but with each other. Be transparent with your team and keep everyone up to date on the latest news going on within the company.

Additionally, try having a chat channel for interesting news or enjoyable content. Maybe have a weekly happy hour to get the team together and review the teams progress. Anything to bring people together and remind them that work can be enjoyable.
Have a Dedicated Onboarding Process
Working remotely brings a unique challenge to the onboarding process of hiring. How do we teach someone the job without ever meeting them in person or shaking their hand? Onboarding is often overlooked in companies. They may give you an employee handbook and give you new login credentials, but it often isn't enough to help you adjust to your new job and it's workplace culture.
Nailing the onboarding process is key to setting up a successful remote team. The process should not only go over how to do the job, but should set the expectations and excite your new employees. Your onboarding process should give insight into the company's culture, who they will be working with, why you do the things you do and who their main point of contact is (better yet if their point of contact is helping them through the onboarding process). Most importantly, don't forget to continually check in on your new hire even long after they have been onboarded.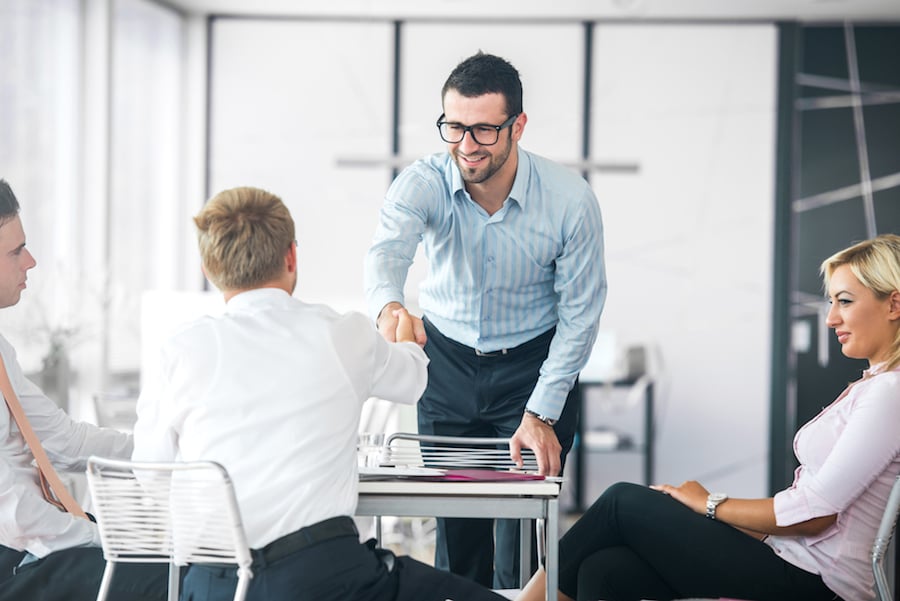 Hire the Right People
Lastly, it is important to hire the right people. Even if you do everything right to manage your remote team, not everyone is cut out to work remotely. These people must be independent, driven and inclined to take initiative. When you are hiring, be sure to learn why they are inclined to work remotely and how they plan on doing so. Ask where do they plan to work? Do they have consistent WiFi? Do they have the tools to do so (adequate computer, printer, phones, etc.)? Make sure that both of you are confident in the skills it requires to be a successful remote worker.